Advanced AV Auckland
Advanced AV New Zealand
Integrated Control System
Offers a range of successful and innovative products with their main flag ship product being the total AV Control System accompanied by the whiteboard system.
This system is the complete package it caters for all of your needs and functions either in a lecture theatre or smaller scale rooms. It can be altered and customized to be used in private businesses in offices/meeting rooms or in a University Lecture Theatre.
The system is a very cost effective way of managing all of your devices and equipment in the room through the use of only one device.
It offers the use a mobile device which is economical and efficient both to set up install and maintain. As well as this is offers the user choice as it can be customized to fit the needs of each individual.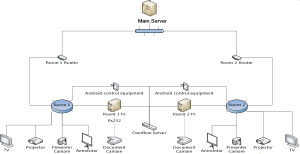 Control System Flow Diagram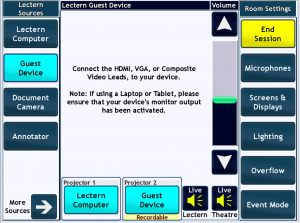 Control System UI
Advanced AV was established by an elite team of professionals with the capability to source hardware and build intelligent software, which can enable and deliver solutions to meet the needs of an everchanging environment. We aim to be leaders in innovation and education industry technology sector. As a company we would like to acknowledge The University of Auckland as being a key and integral partner in this space. They have allowed us the opportunity to take on both difficult and complex challenges, and we have shown the ability to excel in solution delivery. We have built a remarkable reputation of being education industry technology specialists in a very short span of time.Advanced AV,hardware,Annotation Tablets,Interactive Screen,Lecture Recording Streaming device, LED Panels,Mobile Stands,Software,Annotation software,Digital Signage System,Integrated Control System,Project Gallery,Advanced AV,hardware,Annotation Tablets,Interactive Screen,Lecture Recording Streaming device, LED Panels,Mobile Stands,Software,Annotation software,Digital Signage System,Integrated Control System,Project Gallery,LED Panels,Mobile Stands,Software,Annotation software,Integrated Control System,Project Gallery,LED Panels,Mobile Stands,Software,Annotation software,Digital Signage System,Integrated Control System,Project Gallery, annotation tablet,annotation tablet,annotation tablet,annotation tablet,annotation tablet,annotation tablet